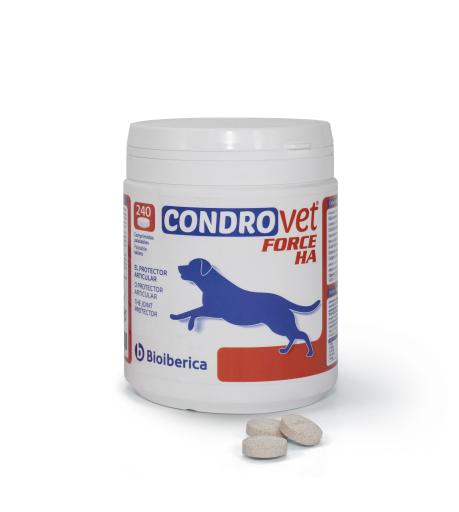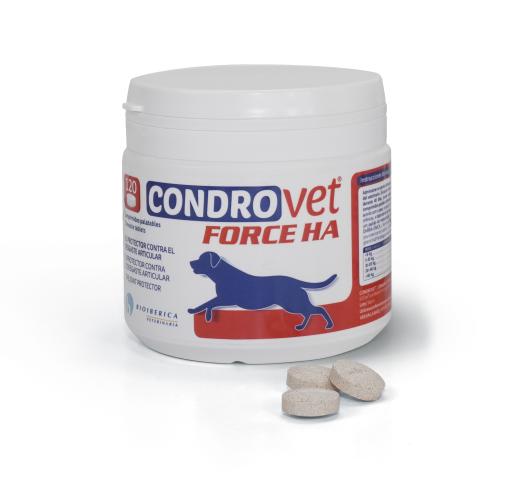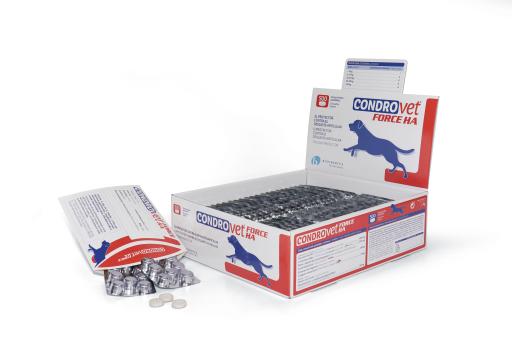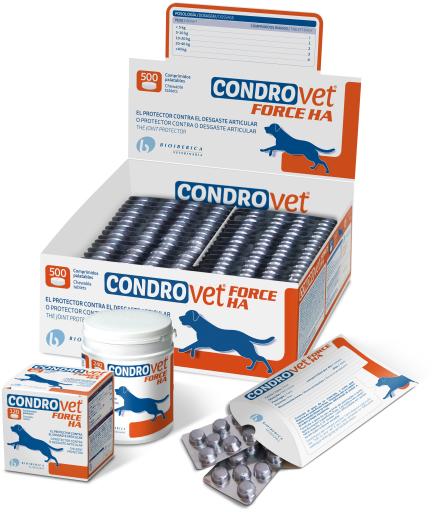 Reviews of Bioiberica Chondrovet Force HA Joint Chondroprotector
Most positive review
I give my dog maintenance treatment with Condrovet and it helps with his dysplasia and anconia problems. Overall it keeps him stable and in less pain than without the medication. Very good price.
good product for my dogs joints
I give my dog maintenance treatment with Condrovet and it helps with his dysplasia and anconia problems. Overall it keeps him stable and in less pain than without the medication. Very good price.
Llevo apenas una semana dándoselo a mi niño de 17 añitos y vuelve a andurrear como un chaval. Totalmente aconsejable.
Un precio muy competitivo para este condroprotector de resultados visibles y disponible en varios formatos segn edad y tamao de tu mascota.
Compramos el producto por ser recetado por nuestro veterinario ( de total confianza)
Se nota el beneficio en las articulaciones y movilidad de mi perrita de 14 años
Werkt perfect. Hond heeft erg last van gewrichten maar deze tabletten helpen enorm.
Este condroprotector est tomndolo desde que tenia 6 meses mi perro ,primero fue el condrovet taste y ahora despus de 7 aos hemos cambiado por el force. De darle de vida 4 aos el veterinario, ya va por 7 aos de edad .
Excellent product that our vet recommended for our poor dog who had to have a major operation to repair both her front legs last year but the tablets greatly help her walking!
Produit miracle pour ma labrador de 11 ans et ses difficults de dplacements
Avec condrovet ma labrador de 11 ans à beaucoup moins de difficultés à se déplacer. Condrovet...c est la vie!
Tiene que ser bueno... Porque las Perris estn en plena forma (gracias, gracias, gracias: complementos...).
Buen producto, producto comprado por recomendacion de la veterinaria de mis mascotas.
Mejorando desde que lo toma
Me lo recomendó mi veterinario pq mí perro siempre tenia dolores musculares al correr y jugar... Tiene 8 años y nos recomendó que le diéramos una al día de por vida para fortalecerlo. Se la toma como un premio y le han ido estupendamente.
Lleva poco tiempo tomndolo. Recomendado por veterinario
Eficaz. Preparao para o inverno de co de grande porte com fragilidade nas articulaes, evitando o recurso a medicamentos para as dores.
A Mis Perrinas y sus articulaciones me remito... Excelente producto para el correcto mantenimiento de parte de sus infraestructuras. Corriendo y saltando sin problemas y ms felices que perdices =D!
Después del primer mes, mi perrito se volvió a parar y mejoró mucho animo.
Es el suplemento que me han recetado mis veterinarios de confianza para mi perro senior. Son masticables y parece que se las come sin problemas.
produit rpondant a mes attentes
Más barata que en el veterinario y le va muy bien al perro. Deben ser buenas de sabor porque le encantan
Indicado y recomendado por el veterinario con buen resultado en caderas perra en este caso.
excelente condroprotector, para mi sin duda el mejor del mercado.
Uno de los mejores condroprotectores y suplementos a muy buen precio necesarios para una perrina de ms de 14 aos.
Tengo un Golden de 12 años y a pesar de la edad, y de ser de una raza grande y con tendencia a coger peso, darle con continuidad esta pastilla la ha ayudado a recuperarse perfectamente!


Previo buensimo. He buscado mucho y lo ms econmico que he encontrado online.
le encanta! A mi pero le chifla estas pastillas se la come que da gusto ,y encima le van muy bien para su displasia de cadera
Bom método de auxílio das articulações dos meus cães
Recomendado por el veterinario, adems el sabor debe ser bueno y mi perro se las toma sin problema junto con el pienso.
C'est un grand protecteur recommandé par la plupart des vétérinaires, principalement pour les chiens de plus de huit ans. Son efficacité est bien prouvée
Aconsejado por nuestro veterinario, ha sido lo mejor que le he podido dar a mi perra de 8 años tras una operación de ligamento.
ch habe eine Verbesserung bei meinem 6 Jahre alten Deutschen Schäferhund festgestellt, mit Beginn der Osteoporose.
o condroprotetor de que tenho visto melhores resultados. Retomei a sua compra, espero que continue bom.
Precio imposible de igualar, ideal para perros mayores o que han sufrido una lesin